Magnets have a very large range of applications and uses. They're useful for home organization, crafts, commercial use, and even industrial and warehouse use. It's important to make sure you get the right thickness (mil) magnet for your specific application. Here are some examples of what size magnets to use.
Magnets for home organization
Label organization – 60 mil
Chalkboard magnetic receptive sheet – 25 mil
Dry erase whiteboard – 20 mil
Typically, magnets for indoor use don't need to be as thick as outdoor magnets. Magnets between 20-30 mil work great for most indoor projects. Create a chalkboard to do list on your wall with 25 mil chalkboard sheets that have an adhesive backing. 20 mil dry erase whiteboard magnetic sheets also have an adhesive backing and can stick to most surfaces. 20 mil works well for holding household magnets and items that are light. Both are great for creating lists and keeping track of your schedule at home.
In some cases, you may need to use thicker or larger mil magnets for your home. Shelf labels are great for organizing your home but require a 60 mil magnet. This is so your magnet stays in place even under demanding conditions. 60 mil adhesive magnet tape works best because you can simply peel the release paper back and adhere to any surface. Plus, it's thick enough that your items won't fall off. For home projects that require a magnetized backing, 60 mil magnetic strip rolls work great and firmly sticks to any steel surface, staying in place and keeping you organized.
Office organization and advertising magnets
Business card magnets – 12 – 60 mil
Car Magnet – 30 mil
Dry erase labels – 20 – 30 mil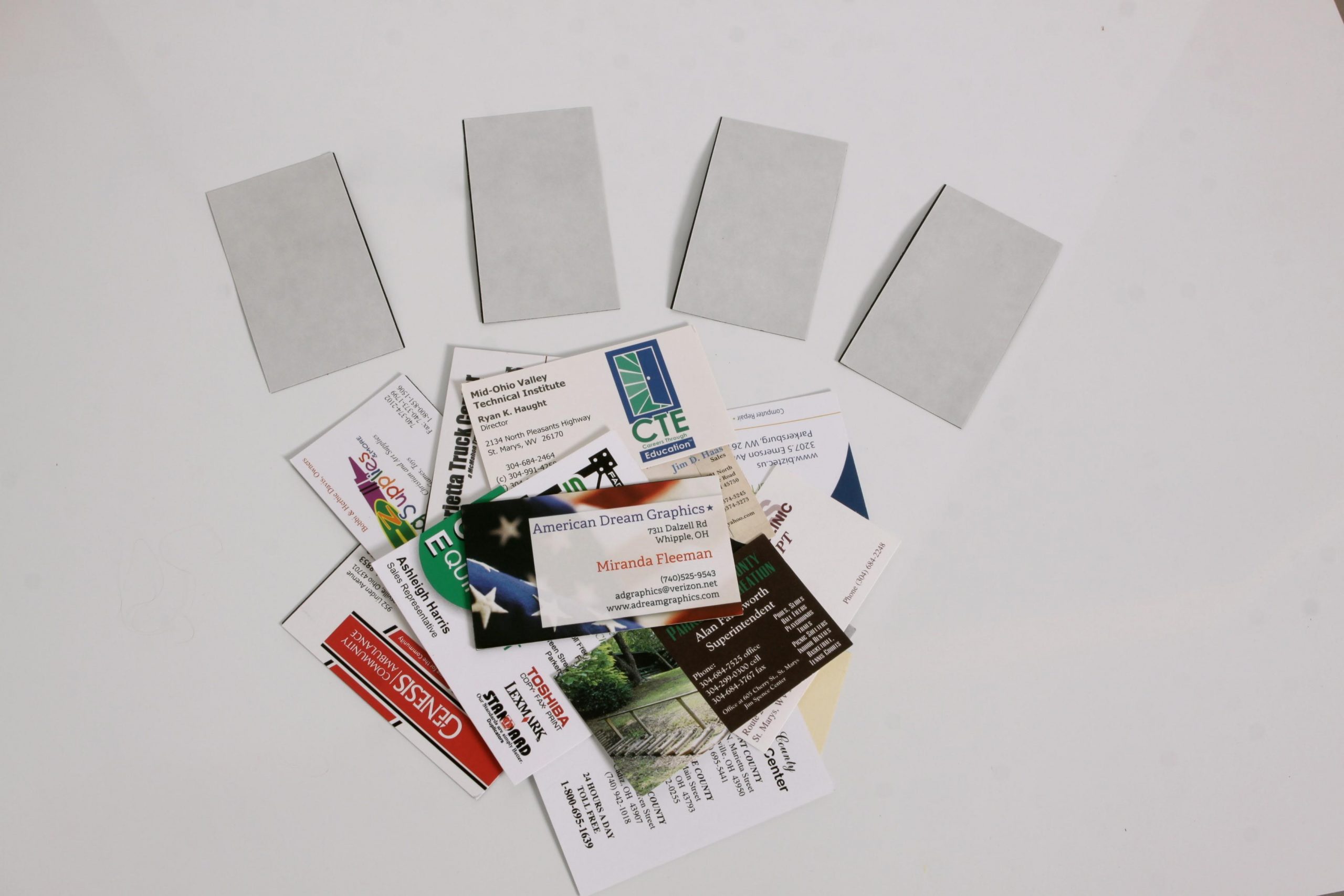 Keeping your office organized is important and using magnets for labeling can help keep
everything in it's place. Dry erase shelf label magnets can be 20-30 mil, which is strong enough to attach to any steel surface and can be used to label office filing cabinets and shelves.
If you want to expand the application of your business cards, use magnets to stick them virtually anywhere. Business card magnets come in 12, 30, and 60 mil thickness, depending on how and where they'll be used. The 30 mil business card magnets are standard and work great for applying to any magnetic surface.
If you want to broaden your business advertising, use car magnets to get your message out to a bigger audience. Car magnets should not be less than 30 mils. Anything less will not have the strength and pounds to withstand the force of a moving car. 30 mil pre-cut magnetic car signs work great and can be screen printed on the front with your businesses message.
Magnets in a warehouse
Inventory organization – 60-120 mil
Dry erase scheduling board – 30 mil
Thicker magnets can come in handy for organization and labeling in factories and warehouses. For labeling inventory, use magnets that are at least 60 mil. 60 mil, 1" inch magnetic strips work great for attaching heavier magnets and will stay in place even during demanding projects. 120 mil magnet strips are nearly four times stronger than a 30 mil magnet, making them ideal for warehouse settings. 120 mil magnet strips can be glued to any surface for an instant magnet to be used for labeling and organizing. Both of these kinds of magnets can be cut with a sharp pair of scissors or utility knife.
Dry erase magnet sheet rolls can be used to organize warehouses or create production schedules. Dry erase magnet rolls should be 20 mil or 30 mil to ensure it's strong enough to stay in place. Our true dry erase magnet rolls have a glossy dry erase front and sticks to any magnetic surface and are easily cut down to any custom size using scissors or a utility knife. This kind of dry erase magnetic is great for lists, scheduling, and important information within a warehouse.
Magnets have endless uses and applications. Make sure that you are getting the right size and thickness for your next home, office, or warehouse project.