Some schools decided to offer virtual learning for the start of the new school year and other schools are still on the fence. After homeschooling for a few months at the end of the last school year, you probably figured out was missing from the "school" setup in your home. We offer a few solutions to help create "organized back to school chaos" instead of just chaos.
Create your own dry erase whiteboard
Turn an indoor surface into a dry erase whiteboard. Choose a finished flat surface like a wall in your home or finished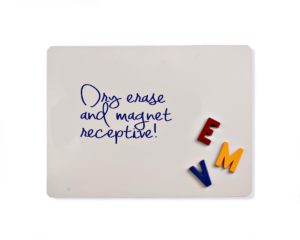 wood then apply the peel and stick whiteboard material to your surface to create a useable whiteboard. The material is a special combination of rubber and steel that creates a magnetic receptive surface that will attract magnets. Write on the dry erase whiteboard with dry erase markers and remove easily with an eraser or soft cloth.
Create your own chalkboard
The chalkboard material is exactly the same as the dry erase whiteboard with the exception of the finish. The 24" wide sheet has a special finish and you can use soft chalk or dry erase crayons on the surface. The chalkboard also has an easy peel and stick application.
Create a daily calendar with magnets
Design a daily calendar using dry erase shelf labels or dry erase sheets. Color code your activities and create a calendar for each week to avoid missed assignments. Choose from 10 different colors to mix and match. After reading about the stress caused by missed assignments, the dry erase magnets are definitely something you need in your toolbox to help keep track.
Create daily to do lists and assignments
Use the laser and inkjet printable magnet sheets to print a daily to do list,
chore list or homework assignments. The magnet sheets can be printed with your home desktop printer. Don't worry, we will provide instructions so you don't need to worry about another internet search.
Create your own refrigerator magnets with adhesive magnet sheets
Have a little fun during homeschooling and take a few photos of your day. Print the photos and make new refrigerator magnets. Just print the photo, remove the release paper and stick your photo to the adhesive on the magnet. We offer a variety of precut sizes or you can order a roll to cut to different sizes.