We live in a pretty busy world – meetings, schedules, kid's extracurricular activities, diets, regimens, plans, etc. Sometimes it is hard to keep up and stay prepared with all of our commitments and "stuff" in our lives. And while technology claims to have all the solutions for organizing our lives, the truth is that technologies fails or evolves too much and too quickly to always keep us on the same page. Sometimes, a simpler solution is the best solution to keep us ahead of our own game and keep us organized. But don't think that organization and planning needs to be archaic. Take your organization system beyond paper and pencil with simple and eco-friendly dry erase magnet solutions. Not sure where to start? Try out these 10 simple dry erase solutions to organize your home and life in fun and creative ways.
Kitchen Message Center
A house that lives together needs to communicate with each other. A simple board to list to-dos, shopping lists, important phone numbers, and short messages can be extremely useful to the family on the go. Best part of using dry erase? If the message or list needs to change, simply wipe it off instead of wasting paper. If you plan on keeping your message center on the fridge, consider using magnetic dry erase sheets to make your center less bulky and easy to move.
Reusable Calendar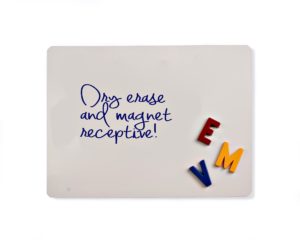 Keeping a calendar for yourself is great but if you need to share it with others it makes it easy to keep it in a shared area. It can be a pain to deal with the hassle of having to buy a new calendar every year and pick out the perfect one each time. Instead, create your own with a dry erase sheet, a permanent marker, and dry erase markers. All you need to do is create the skeleton of the calendar on the board using permanent marker and then simply re-write in dates and reminders every month with the dry erase markers.
DIY Desktop Writable Surface
If your desk is your working hub and you constantly need to make little notes on the fly, consider attaching a magnetic dry erase sheet to your desk for quick note taking. Gone will be the pain of finding a piece of paper and your notes will be easily accessible whenever you need them.
Weekly Menu Planner
One of the hardest things about cooking dinner at home consistently is not knowing what to cook or not being prepared. One of the best ways to combat this barrier is to plan out meals ahead of time. Make this a community effort with a menu planning board and save time and effort with one made one a dry erase board. Having meals planned out ahead of time keeps everyone on the same page and makes grocery shopping much easier and efficient.
Creative Dry Erase Placemats for Kids
Do your kids love the activity placemats at restaurants? Create the same fun at home without all the waste of paper placemats. Simply draw out your activities with permanent marker on a dry erase sheet and have dry erase markers at hand for kids to enjoy. All finished with the meal and tie to clean up? Simply wipe off to clean off and start again!
Metal Canister Labels
Metal canisters are a popular storage solution in the home but labeling them can be tricky. Make your own simple solution with magnetic dry erase labels to have an editable and moveable solution. No more guessing games of what's in the canister!
Teaching Aids
Early childhood education requires a lot of practice and engagement with topics like writing, reading, and math. Make your own practice boards out of dry erase boards and permanent markers to encourage your little ones in learning. One of the biggest bonuses of using dry erase boards for practice boards is your ability to correct mistakes immediately and without having to waste paper.
Meal Calorie Tracker
Tracking daily caloric intake is crucial in dieting and while there are many online tools like MyFitnessPal that help tremendously in this effort, sometimes you end up relying on estimates and guesses instead of real data. Take control and build awareness of the food you are eating by tracking the kilocalories (kcals) of the food you prepare by using a scale and adding up the calories that go into a meal. An easy hack to make listing all the kcals of your ingredients easy to write on and refer to is to attach a dry erase whiteboard to the inside of one of your cabinets by your meal prep area. As you weigh your ingredients and determine their kcals, keep a list going and divide the total by the number of portions your meal prepared.
Laundry Alert System
Laundry is a task that is sometimes hard to share with the different care requirements certain garments need over others. Avoid the accident of your favorite sweater going through the dryer with a simple laundry alert system. Did you put something in the wash that needs to hang dry? Simply write it down on a magnetic dry erase sheet attached to the washer so that everyone knows to keep an eye out if they change over the wash.
Chore List
One of the key things to teach young children is responsibility and a chore list is a great way to do just that. Assign different chores every week in a centralized location using a dry erase board to make lists easy to change and easy to use.